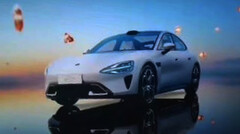 Alleged images of Xiaomi's inaugural EV have leaked. Tipped for a Q1 2024 launch, the Xiaomi is expected to arrive as the Modena, despite the images showing the device as the Xiaomi MS11.
The Xiaomi 'Modena' has been spotted again, less than two weeks after prototypes of the company's first EV were spotted in Inner Mongolia. Now, Car News China claims to have obtained images of the same car without any camouflaging attached. For some reason, the photos have been taken from a display. As a result, the images are relatively low resolution and a touch grainy.
Still, the design shown matches real-life photos of Xiaomi Modena prototypes. According to Car News China, 'Modena' is likely to be the EV's marketing name with the 'MS11' on its numberplate actually its codename instead. The Xiaomi Modena shares few similarities with the Ferrari 360 Modena, though. Instead, the EV looks more like a Tesla Model 3 or a Hyundai Ioniq 6 with a sedan trunk.
Additionally, the Xiaomi Modena has pop-out door handles, a full glass roof and what appears to be a sensor array above its windshield. An interior shot has not surfaced yet, although one image suggests that there is no obvious digital dash. It seems that the Xiaomi Modena has three rear seats, too. Xiaomi's first EV is not expected to arrive until Q1 2024 at the earliest.
Related Articles
Alex Alderson – Senior Tech Writer – 7266 articles published on Notebookcheck since 2018
Prior to writing and translating for Notebookcheck, I worked for various companies including Apple and Neowin. I have a BA in International History and Politics from the University of Leeds, which I have since converted to a Law Degree. Happy to chat on Twitter or Notebookchat.
Alex Alderson, 2023-01-30 (Update: 2023-01-30)