The modern Southern rockers recently played Nashville's Ryman Auditorium, and guitarists Charlie Starr and Paul Jackson displayed a bevy of gear every bit as hardworking as these road dogs.
---
Right now, they're in Europe, but Atlanta-based rockers with a distinctly Southern musical accent, Blackberry Smoke, smoked Nashville's Ryman Auditorium for two nights in February before jumping the pond.
Their latest album, You Hear Georgia, was produced by Dave Cobb in Nashville, and hit the top of the Billboard Americana/Folk chart when it was released in mid-2021. PG's John Bohlinger caught up with guitarists Charlie Starr and Paul Jackson before their sold-out show at the Ryman to run down their ever-expanding universe of gear.
Brought to you by D'Addario XS Strings.
Battered, Not Fried

This 1956 Gibson Les Paul Junior was professionally refinished in the '70s, but Charlie Starr has put some serious miles on this one-pickup wonder. The battered badass with a dog ear P-90 and all his electrics are strung with D'Addario XL Nickel Wound strings, .010–.046. He uses InTuneGP Heavy picks and a ceramic Charlie Starr Signature Osanippa Creek Slide.
Like Ernest Tubb and other guitarists from the classic annals of entertainment, Starr has a greeting on the back of his '56 Junior for the fans.
Barnburner

For some semi-hollow tone and feel, Starr goes with his stock 1964 Gibson ES-335 in Cherry Red with a Bigsby. The guitar belonged to a friend's grandfather, and when Starr acquired it, he says, "It had gauges at the C, G, and D," positioning his hand over the open chord shapes. He had it re-fretted by Stan Williams in Georgia, who told Starr, "This guitar looks like it's been sitting outside in a barn since 1964. And I don't know how the dude was able to get a bird to shit inside that f-hole."
Physical Advantage

Starr maintains that this 1965 Fender Esquire in factory black, like his other single pickup guitars, sounds larger than most as there are less magnets interfering with the string vibration. He adds, "I'm told that it's a physics thing. And I'm a physicist, so I subscribe to that theory."
The Rest of the Best

Here are the Starr's other main stage rides (clockwise from the top right): a 1956 Gibson Les Paul Jr., a 1963 Fender Esquire, a1964 Gibson SG Jr., and a Fender American Nashville B-Bender Telecaster.
Tone Trifecta

"This is on all the time," Starr says of his Echopark Vibramatic 23, which he pairs with a tall cab. "It's basically a tweed Deluxe, and it adds that 6V6 creamy sweetness all the time." The maker of Blackberry Smoke's 50-watt Germino heads, Greg Germino, personally recommended this Germino Lead 55LV (left) to Starr, and is paired with a 4×12 cab. And the other Germino is a Master Model 50.
Charlie Starr's Pedalboard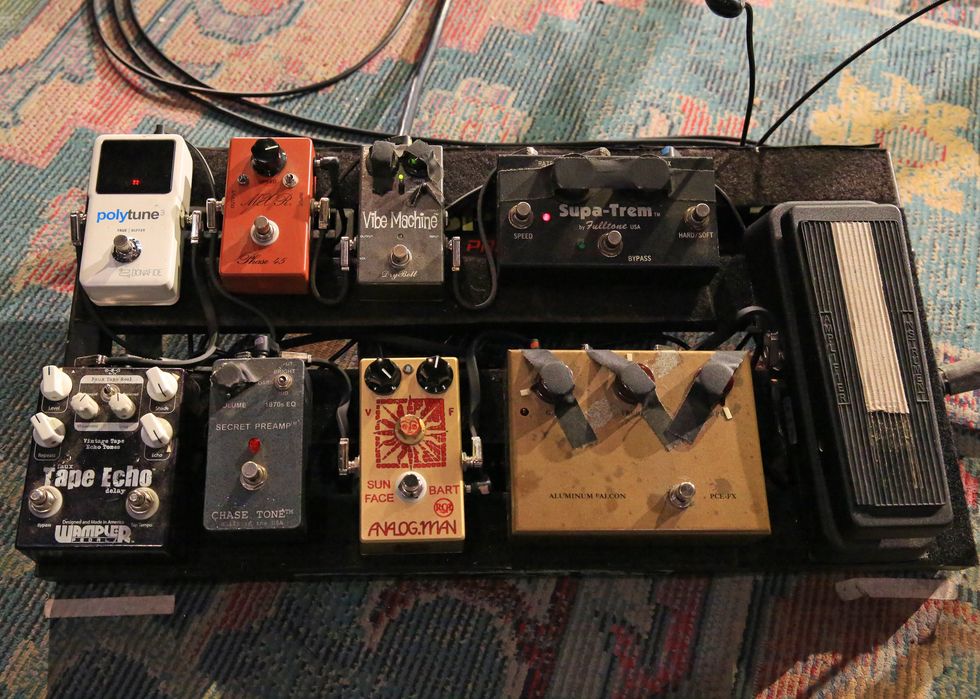 Starr's pedalboard features a Cry Baby Wah, a PCE-FX Aluminum Falcon Klon clone, an Analog Man Sun Face, Chase Tone Secret Preamp—"a preamp that accidentally made everyone's signal a little sweeter,"—Wampler Faux Tape Echo, Fulltone Supa-Trem, DryBell Vibe Machine, Analog Man-modded MXR Phase 45, and a Polytune 3. XTS XAct Tone Solutions supplies the juice. Starr tapes a few of the pedals' knobs to make sure his settings don't go missing in action.
Paul Jackson's Ol' Reliable

Paul Jackson's number one is his 1979 Les Paul, which has been modded with a Seymour Duncan '59 neck pickup and a Pearly Gates bridge pickup. He says he got it at a Guitar Center in Atlanta about 18 years ago—it also sports Dickey Betts' autograph. Jackson strings this and all his electrics with D'Addario .010-.046s.
Black Magic

This black Gibson SG Standard—one of Jackson's pair of SGs—was a gift from Frank Hannon of the band Tesla, who signed the back of it.
Keep It Together

Jackson's Martin D-28 currently has gaffer tape holding down its binding.
Gibsons Galore

The other three touring staples for Jackson include a 1978 ES-335, a 40th Anniversary Les Paul Ebony 1991, and a 1998 Gibson SG Les Paul Custom Shop Historic.
De-Modded For Classic Tones

One of the two amps Jackson tours with is a pre-'85 Marshall JCM800 50-watt with a stock 4×12 cab. You'll see it has a sticker that says "Paul Jackson Mod"—he had it modded at one point, but later took it to Andrews Amp Lab in Atlanta to have them "turn it back into a Marshall." Along with the Marshall, Jackson's Vox AC30 is on "all the time."
Paul Jackson's Pedalboard

Jackson and Starr's pedalboards have a more than a few things in common—Jackson's also equips his with a Cry Baby Wah, Wampler Faux Tape Echo, and a PCE-FX Aluminum Falcon Klon clone—although Jackson's is an Aluminum Falcon III. Other pedals on his board include a Radial Twin-City ABY Amp Switcher, JHS 3 Series Reverb, MXR EVH Phase 90, Way Huge Overrated Special Overdrive, and an Ibanez Mini Tube Screamer. Power comes from a Truetone power supply. Of the EVH Phaser, Jackson says, "If you don't know what you're doing, hit the phase pedal. nobody will ever know."