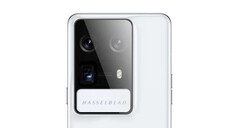 The Find X6 is thought to launch soon with most of the latest flagship Android smartphone features from the brand OPPO. Now, according to its latest leak, the theory extends to its display too. Then again, it is thought to come with a new top-end eye-care feature for its curved display.
OPPO is projected to step into the 2023 top-end, Snapdragon 8 Gen 2-powered Android smartphone arena with the Find X6 series, which may comprise direct successors to the X5 and X5 Pro, although each one is expected to get its own Hasselblad-branded rear camera hump this time around.
That may be why most Find X6-related leaks pertain to their supposedly high-end shooters. However, the famous leaker Digital Chat Station claims to have uncovered more details on how the vanilla variant might differ from its Pro sibling.
It is tipped to be an AMOLED display, as one might expect from a handset slated to belong to a premium line-up – however, it is also now believed to be sourced from a Chinese company rather than one such as Samsung.
The Find X6's display is also now predicted to have a resolution of 2772×1240 (or "1.5K+") and to have minimal bezels – if only because its panel will be curved.
Then again, it is also thought to launch with 2,160 PWM dimming, a spec added to some of the latest smartphones on the market and touted to be the latest way to maintain eye comfort during prolonged screen use.
Therefore, the OPPO Find X6 is now thought to launch with what some consumers might feel are some compromises in terms of its screen quality, but with some of the latest bells and whistles that might convince others to buy.
Buy a Pixel 6 Pro on Amazon
Related Articles
Deirdre O'Donnell – Senior Tech Writer – 5920 articles published on Notebookcheck since 2018
I became a professional writer and editor shortly after graduation. My degrees are in biomedical sciences; however, they led to some experience in the biotech area, which convinced me of its potential to revolutionize our health, environment and lives in general. This developed into an all-consuming interest in more aspects of tech over time: I can never write enough on the latest electronics, gadgets and innovations. My other interests include imaging, astronomy, and streaming all the things. Oh, and coffee.
Deirdre O'Donnell, 2023-01-16 (Update: 2023-01-16)