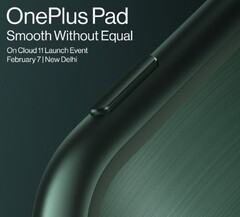 The OnePlus Pad has been officially teased and confirmed to launch globally on February 7 alongside the OnePlus 11, OnePlus Keyboard, and OnePlus Buds Pro 2. Ahead of that date, however, leaks have now revealed important details of the tablet, one which is expected to debut in China as the OPPO Pad 2 later on.
OnePlus is poised to debut its inaugural tablet shortly. The company is expected to launch the OnePlus Pad globally on February 7 alongside devices like the OnePlus 11 and OnePlus Buds Pro 2, and details of the tablet have now surfaced in the wild.
According to the leak, the OnePlus Pad will be sold later in China as the OPPO Pad 2. The tablet is tipped to sport an 11.6-inch 2K 144Hz LCD. MediaTek's last-gen flagship chipset, the Dimensity 9000, is expected be the engine, with up to 12 GB of RAM and 512 GB of storage also on offer. 
While cameras are never the focus of tablets, the OnePlus Pad is tipped to sport a 13 MP main camera and an 8 MP selfie camera. Other specs include a 9500 mAh battery, stylus support, and 67 W charging. It appears, however, that the OnePlus Pad will be WiFi-only. Pricing information on the OnePlus Pad remains unavailable, but last year's OPPO Pad launched in China with a base price tag that converted into around US$365 at the time—considering the improvements touted, it wouldn't be surprising to see the OnePlus Pad debut with an MSRP in the region of US$500.
Related Articles
Ricci Rox – Senior Tech Writer – 2542 articles published on Notebookcheck since 2017
I like tech, simple as. Half the time, you can catch me writing snarky sales copy. The rest of the time, I'm either keeping readers abreast with the latest happenings in the mobile tech world or watching football. I worked as both a journo and freelance content writer for a couple of years before joining the Notebookcheck team in 2017. Feel free to shoot me some questions on Twitter or Reddit if it so tickles thine fancy.
Ricci Rox, 2023-02- 3 (Update: 2023-02- 3)