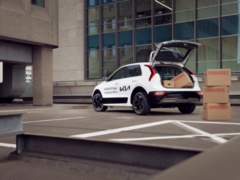 The Kia Niro EV Cargo has been revealed in the Netherlands. The electric vehicle uses a conversion kit to add parts, such as an aluminum coated load area and metal divider behind the front seats, transforming the Niro into a delivery vehicle. The Niro EV Cargo has up to 460 km (~286 miles) range and 255 Nm of torque.
The Kia Niro EV Cargo has been announced in the Netherlands. The company describes the electric vehicle as between its e-Soul delivery van and standard Niro EV models. The EV Cargo is built using a regular Niro and a smart conversion kit, designed in collaboration with Veth Automotive, converting the SUV into a delivery vehicle.
Two versions of the cargo kit are available: the Basic Kit and the Pro Kit. The Basic package, which retails for €1,990 (~US$2,122), includes an aluminum-coated load floor, a metal bar divider to fit behind the front seats and two lashing eyes to secure your cargo. The Pro Kit contains the same parts, adding four more lashing eyes and two storage compartments between the front seats and beneath the load area. The Pro version is more expensive, costing €2,680 (~US$2,858).
The Kia EV Niro Cargo has a 460 km (~286 miles) range from a 64.8kWh battery, which can be charged from 10 to 80% in 43 minutes with a fast charger. The 150 kW motor delivers up to 255 Nm of torque. There are four Kia Niro EV Cargo models on offer, from the entry-level DynamicLine to the top-end ExecutiveLine. Prices of the vehicle start at €38,230. The EVs come with a seven-year or 150,000 km (~93,206 miles) warranty.
Related Articles
Polly Allcock – Tech Writer – 1004 articles published on Notebookcheck since 2021
I've been interested in technology for as long as I can remember. From a young age, I have loved gadgets and understanding how things work. Since graduating, I have worked for several technology companies across FinTech, AdTech and Robotics.
Polly Allcock, 2023-01- 8 (Update: 2023-01- 8)