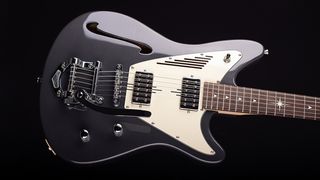 (Image credit: Magneto Guitars)

It's set to be a year to remember for Magneto, which has just lifted the curtain off the latest electric guitar design to join its ever-growing family: the Starlux.
The suitably suave semi-hollow won't officially arrive until later this year, but that won't stop us – and many other guitar fans, we expect – from appreciating its design and aesthetic in the meantime.
According to the company, the Starlux takes inspiration from the '50s, and was crafted with the idea of bringing this spirit "into the next century". It's a fairly open design brief, admittedly, but one that has led to a pretty stellar outcome.

Specs-wise, the double-cut features a basswood body, which is teamed with a three-piece hard maple neck and rosewood fingerboard, the latter of which is adorned with Magneto's Starlux inlays.
In the hardware department, a TOM-inspired bridge and Bigsby-style tremolo combination is joined by a bone nut, with a pair of Classic Twin humbuckers answering to a three-way selector switch and two control knobs, presumably master volume and tone parameters.
As an added extra, the Starlux has supposedly been carefully crafted to "perfectly match the playing position", and weighs a humble 3.6kg.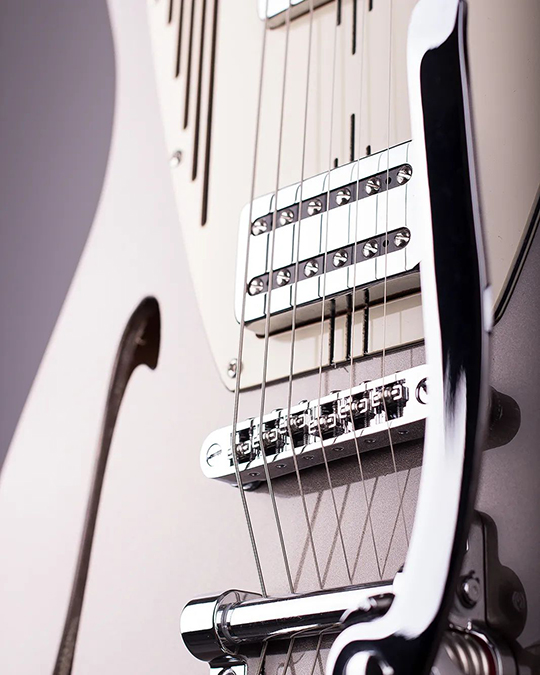 A trio of finishes befitting its retro-meets-modern design will be available, in the form of Candy Apple Red, Sunset Gold and Midnight Silver.
Unfortunately, that's all we have to go on at the moment, but it looks as though the Starlux will make a fine addition to Magneto's electric guitar lineup, which is currently spearheaded by Eric Gales' highly rated RD-3 signature guitar.
Magneto has been previewing the Starlux on its official Instagram account (opens in new tab), though, so head that way if you fancy catching some more sneak peeks prior to the guitar's official launch.
Or, to browse Magneto's full lineup, visit its official website (opens in new tab).
Thank you for reading 5 articles this month*
Join now for unlimited access
US pricing $3.99 per month or $39.00 per year
UK pricing £2.99 per month or £29.00 per year 
Europe pricing €3.49 per month or €34.00 per year
*Read 5 free articles per month without a subscription
Join now for unlimited access
Prices from £2.99/$3.99/€3.49