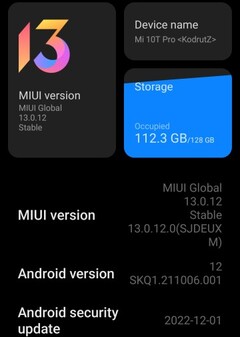 While both MIUI 13.5 and Android 13-based firmware are still nowhere to be seen, the Xiaomi Mi 10T Pro and its non-Pro sibling now receive the Android 12-based MIUI Global 13.0.12 Stable update. This software package brings together the October, November, and December security updates, without any new features.
Views, thoughts, and opinions expressed in the text belong solely to the author.
Although I have been thinking about upgrading my aging Xiaomi Mi 10T Pro for a while, I am planning to keep it at least until the Android 13-based MIUI 14 update becomes available for it. Sadly, the last step before that update should be MIUI 13.5, which is nowhere to be seen yet. However, the new MIUI Global 13.0.12 Stable update comes with no less than three security patches bundled and, apparently, a noticeable error in its description as well.
After applying the update, my phone is now running MIUI Global 13.0.12 Stable.SJDEUXM (up from 13.0.9), with the full Android version being 12 SKQ1.211006.001. Lastly, the date of the security update is December 1, 2022. On the other hand, the description of the update mentions October twice, followed by November, which is most likely a mistake.
While Xiaomi will probably not bother to clarify the mistake above, the certain fact is that the Mi 10T Pro (and its non-Pro sibling, as usual) are now running Android 12-based MIUI Global 13.0.12 Stable with December's security patch. This being said, remains to see if the Android 13 (and final) update for this successful handset arrives as planned (by March 2023, but given the new COVID outbreak in China, a one or two-month delay should be also taken into account).
Related Articles
Codrut Nistor – Senior Tech Writer – 5824 articles published on Notebookcheck since 2013
In my early school days, I hated writing and having to make up stories. A decade later, I started to enjoy it. Since then, I published a few offline articles and then I moved to the online space, where I contributed to major websites that are still present online as of 2021 such as Softpedia, Brothersoft, Download3000, but I also wrote for multiple blogs that have disappeared over the years. I've been riding with the Notebookcheck crew since 2013 and I am not planning to leave it anytime soon. In love with good mechanical keyboards, vinyl and tape sound, but also smartphones, streaming services, and digital art.
Codrut Nistor, 2023-01-12 (Update: 2023-01-12)